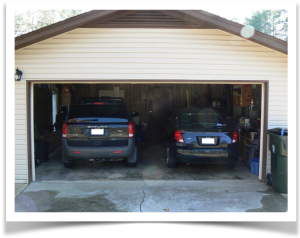 When I'm introducing 5S to a new audience, I like to get them comfortable with the concept. I ask how many have a garage. Usually about 2/3 of the audience will. I then ask them to name the two most expensive things they own. Their car is usually on that short list. Then I ask: "Where do you park your car?"
This question always draws nervous laughter. You see, most people store their 1st or 2nd most valuable possession in the driveway, outside the garage. Why? Because their garage is full of … well, stuff.
For those who didn't have a garage, I ask them to think of a storage area: basement, attic, closet, shed or even rental unit. Then I give everyone two sticky notes and have them write down two things that are in their storage area.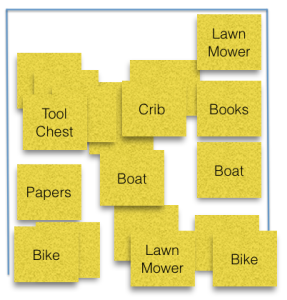 Virtual Garage
I collect the notes and put them inside an open square I've drawn on the whiteboard. I jam all those sticky notes into the virtual "garage."
As I put them in, I read them out to the audience. That always draws laughs, as we'll invariably get three lawnmowers or whacky things like baby buggies from empty nesters.
Then I create three additional areas on the board: Sell, Donate and Trash.
For the next 20 minutes we go item by item through the sticky notes. I take them out of the garage and put as many as possible in the three new areas. Then, we carefully put the items that we intend to go in the garage in the "right" place, based on the frequency of its use: refer to my post on Distance vs. Frequency Charts.
While I'm doing this, I make a point of explaining how valuable "donating" is. For the individual, it creates a tax write off, and, if they've got a lot of … stuff, that can help offset some serious income. It can be even more valuable for a company. Don't just think about the tax consequences of the donation. Think about what you're doing for your community and the "good will" you're building for your company.
I once had a company donate 15 computers to a local school. The school couldn't afford them, but now could set up a computer lab. What a difference that made to their students!
It's funny, when I use this tool, participants will often come up to me within a few days and tell me privately: "I went home and 5S'ed my garage," or, "I went home and 5S'ed my kitchen."
People can connect with the Garage Game. Try it and find out.